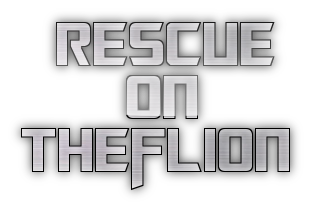 Rescue on Theflion (ZX Spectrum Next)
English
Mission
=====================
The mission is to rescue as many humans as possible from the surface of the planet Theflion.
At the start of the game, the player's ship is docked in the mothership at the top of the screen. The
player must press the button to free their spaceship from the mothership and maneuver through the UFO
traffic until they reach one of the platforms, pick up an astronaut and return with him to the
mothership.
The ship allows moving from right to left and accelerating and braking to avoid colliding with UFOs,
although accelerating and braking will consume part of the available fuel.
As the ship ascends towards the mother, you can shoot to eliminate the UFOs that obstruct the ascent.
When it is close enough, the mothership will stop to facilitate entry and release the human into it.
Once all the humans have been rescued, a bonus phase begins in which the ship must land on the lower
platform. It must be done before the time indicated at the top or, if it reaches zero, there will be no
bonus.
If you crash into the platform faster than you should, there will be no bonuses either.
A red exclamation mark will appear on the left side of the screen indicating that the horizontal and / or
vertical speed is too high.
In the bonus phase there is no fuel limitation.
In successive levels, mines, asteroids, tanks on the ground and vertical tanks will appear that will make
the mission difficult.
When all lives are lost, if level 1 has been passed, up to 5 continuations are allowed.
Controls
=====================
It can be controlled with the following keys:
O - left
P - right
M - shoot (only during ascent)
Q / A - control speed
It can also be controlled with a joystick by choosing to be Kempstom type.
Credits
=====================
Game programmed using:
ZX Basic - created by José Rodríguez (Boriel)
NextLib - created by David Saphier (em00k)
BeepFX - created by Shiru
With the invaluable help of Juan Segura Duefectu
Game coded by Oscar BraindeaD
Español
Misión
=====================
La misión consiste en rescatar a tantos humanos como sea posible de la superficie del planeta Theflion.
Al inicio de la partida, la nave del jugador está atracada en la nave nodriza en la parte superior de la
pantalla. El jugador debe presionar el botón para liberar su nave espacial de la nave nodriza y maniobrar
a través del tráfico de OVNIs hasta llegar a una de las plataformas, recoger a un astronauta y regresar
con él a la nave nodriza.
La nave permite moverse de derecha a izquierda y acelerar y frenar para evitar chocar con los OVNIs, si
bien, acelerar y frenar consumirán parte del fuel disponible.
Mientras la nave asciende hacia la nodriza, puede disparar para eliminar a los OVNIs que obstaculizan el
ascenso.
Cuando esté lo suficientemente cerca, la nave nodriza se detendrá para facilicar la entrada y liberar a
humano en ella.
Una vez rescatados todos los humanos, se entrará en una fase de bonus en la que se debe aterrizar la nave
en la plataforma inferior. Debe realizarse antes de que el tiempo indicado en la parte superior o, si
éste llega a cero, no habrá bonus.
Si se colisiona a más velocidad de la debida contra la plataforma, tampoco habrá bonus.
En la parte izquierda de la pantalla aparecerá una exclamación roja indicando que la velocidad horizontal
y/o vertical es demasiado elevada.
En la fase de bonus no hay limitación de fuel.
En sucesivos niveles aparecerán minas, asteroides, tanques en el suelo y tanques en vertical que
dificultarán la misión.
Cuando se pierden todas las vidas, si se ha superado el nivel 1, se permiten hasta 5 continuaciones.
Controles
=====================
Puede controlarse con las siguientes teclas:
O - izquierda
P - derecha
M - disparar (sólo durante ascenso)
Q/A - controlar velocidad
También puede controlarse con joystick eligiendo que sea tipo Kempstom.
Créditos
=====================
Juego programado usando:
ZX Basic - creado por José Rodríguez (Boriel)
NextLib - creada por David Saphier (em00k)
BeepFX - creado por Shiru
Con la inestimable ayuda de Juan Segura Duefectu
Juego programado por Oscar BraindeaD
Download
Click download now to get access to the following files:
RescueOnTheflion_20210130.zip
90 kB